Batch twoooo~
And I'm not that proud of it... NYAH.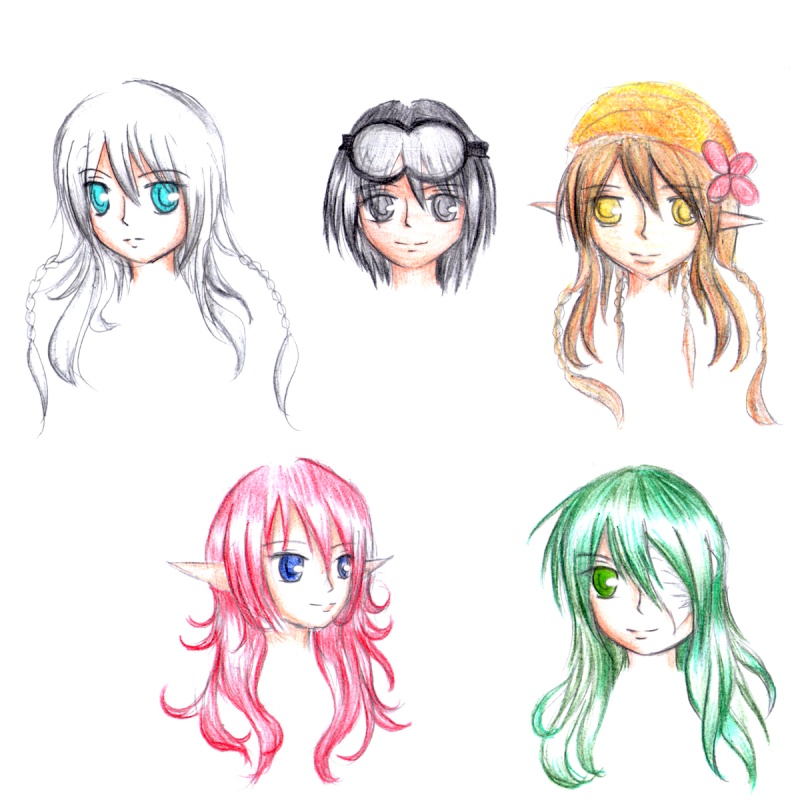 Girl!Forte should be in the first batch. But I ruined it and thus need repeating. And her eyes should be light green but the scanner seems to have blurry eyes and it became light blue. >.> Her hair looks plain, and since spell casters in classical mythology wear braids (as in the LOOOONG ones) I made her wear it. But not that long because it'll look like Hatsune Miku with white hair and on braids.

I have nothing more to say on Girl!Ignitio except that I did the same trick as I did on Girl!Shea and I hate damn hate the way I did her skin. Scanner fail, damnit.
Girl!Albel is another thing. I did her twice, because on my first try, her hair is gold like Klavios. xD So I mixed gray and bron and made a magnificent hair. YAY.

And If the real Albel is an animal guy, well his girl version is a nature/plants/flowers/the like type.

AND I SHOULD HAVE USED THE SAME COLOR ON GIRL!ALVISS ANG GIRL!AVALON Damn it.
Her hair is a mess. When my mom saw Girl!Nero, my mom liked her.

Her hair inspired by valen_albaderon36's hair in real life. Why? Because from afar, her hair is neat, but on closer look, it looks all messy and jumpy and some strands are flying. xD And Girl!Nero looks more like a red-headed forest nymph than a guild warrior. AUGH.
Sorry for killing Girl!Zephyr's awesomeness. I figure that whomever gave Girl!Zephyr the mask probably found her eyes too pretty to be covered, so he gave a half-mask to her. Now she looks like the girl and green-haired version of the phantom in the Phantom of the Opera. GEEZ. But I liked the design that way. YAY~

I hope you like them~